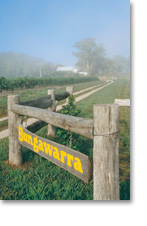 Current plantings total 5.5 hectares of Shiraz, Cabernet Sauvignon, Malbec, Chardonnay, Semillon and Traminer vines, and still include the Muscat vines from Angelo's time (these are now over 80 years old).

All are grown under solid sustainable agricultural practices in the belief that the best naturally-produced fruit produces the best-flavoured wine.

All phases of wine-making are done on the estate, from fruit production through to bottling. This is a complete boutique winery with many awards to its credit.
Situated near Stanthorpe in the beautiful Ballandean area of Queensland's Granite Belt, Bungawarra has three National Parks nearby and is a lovely place to visit. The wines you may taste before purchase are a bonus - they currently include both sweet and dry, whites and reds, a Port and our fabled Liqueur Muscat.
Ballandean is easy to find, just 20 km south of Stanthorpe and 20 km north of the Qld/NSW border.
Open 10.00 am to 4.00 pm, picnic and barbecue facilities provided. All visitors are welcome, but prior bookings for coaches and large tour-groups are required.
Owner/Winemaker: Jeff Harden


To listen to the song "Bungawarra Wine" - written and sung by PENNY DAVIES & ROGER ILOTT click here

Look for us on FACEBOOK